So I first heard about the
Peta
organization while watching The Kardashians. Khloe was asked to pose
nude for "I'd rather go naked" campaign. Originally she decided to go for it. But when it came down to the actually shoot she was a lil iffy on following through. Come to find out she had tons of insecurity issues.
Who woulda thunk it?
! I think she is freakinn gorgeous with a
NORMAL
ass body!! She finally went through with it because she knew it was for a good cause. The organization fights to save animals from being killed, skinned, furred, and test objects. Please view the website
http://www.peta.org/
and become envoled. My favorite part of the website and what I found to be most intresting was seeing what products are tested and
NOT
tested on animals. Click the link
http://search.caringconsumer.com/
.

Here are the spreads of some of my favorite celebs.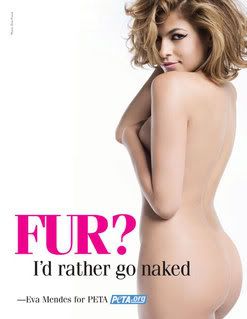 Think twice about what you wear & make a
CHANGE
!